I am having the time of my life right now with my parents here visiting from the States, hence the lack of posts! We are just reveling in the time to have together. I am thankful for Godly parents who love my children, my husband, me and most of all the Lord Jesus Christ!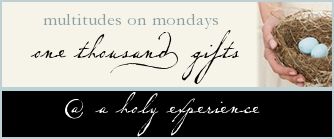 41. My parents visiting us in Ecuador
43. The privilege of prayer
44. watching the kids involved in sports activities
50. songs to sing to praise the Lord
51. Christian radio stations available online (K-Love, The WORD FM, The FISH 95.9)
52. people to help us out in this new city
54. SKYPE to keep in touch with family and friends
56. the privilege to worship with other believers
57. the joy of opening the Word with others
59. watching my dad involved in the community here during his trip
60. watching the kids play with their grandparents
There is something completely awesome when you see the long-awaited plane landing.....
Then as we stand and gaze out the large glass walls, watching each passenger disembark the plane, anxiously waiting for my parents to step off. Listening to the children whisper, "Is that them?" "Will they be next?" "What do you think Nana will be wearing? And Grandpa?" Anticipation, excitement, tears of joy . . . and then you see them .....Grandpa and Nana......
and you whisper a prayer of thanks to the Lord for His blessings in your life.